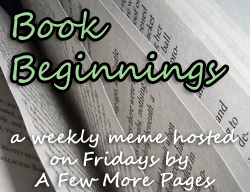 A

little bit of fun on a Friday, this weekly meme is hosted by A Few More Pages.
I'll share the first line (or two) of the book I'm currently reading (including the title and author) and let you know what my first impressions are - good or bad!
"The last thing papa said to me, the last word from his lips, was 'Kamchatka'. He kissed me, his stubble scratching my cheek, then climbed into the Citroen."
Kamchatka, by Marcelo Figueras
Well, this beginning is obviously good, because I'm hooked! It's the story of a 10-year-old boy, set in 1970s Buenos Aires. I've never read anything set in South America before so I'm really looking forward to it!