Each week I join in a few fun activities in the blog-o-sphere...
Ten Good Things on a Monday is a weekly meme hosted by Nina and Argh.
It's dedicated to every person's compulsive list-writing. Every Monday I'll make a list of ten things that will cheer us up and help us tide over the whole week. It won't necessarily be a list of books - it might be ice cream flavours, or chocolate, or exotic travel locations.
____________________________________
Teaser Tuesdays
Teaser Tuesday is a weekly bookish meme hosted by MizB of Should Be Reading
--share two "teaser" sentences from somewhere on that page
Be sure NOT TO INCLUDE SPOILERS! (Make sure that what you share doesn't give too much away! You don't want to ruin the book for others!)
--Share the title and author, too, so that other TT participants can add the book to their TBR lists if they like your teasers!
____________________________________


To play along, just answer the following three questions:
• What are you currently reading?
• What did you recently finish reading?
• What do you think you'll read next?
____________________________________

Theme Thursdays is a fun weekly event, hosted byReading Between Pages,
that will be open from one Thursday to the next. Anyone can participate in it. The rules are simple:
A theme will be posted each week (on Thursday's)

Select a conversation/snippet/sentence from the current book you are reading

Mention the author and the title of the book along with your post

It is important that the theme is conveyed in the sentence (you don't necessarily need to have the word)
____________________________________
Book Beginnings...on a Friday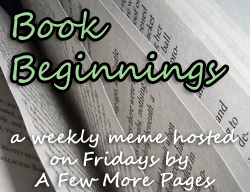 A little bit of fun on a Friday, this weekly meme is hosted by A Few More Pages.
I'll share the first line (or two) of the book I'm currently reading (including the title and author) and let you know what my first impressions are - good or bad!
____________________________________