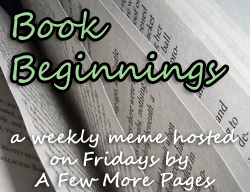 A little bit of fun on a Friday, this weekly meme is hosted by A Few More Pages.
I'll share the first line (or two) of the book I'm currently reading (including the title and author) and let you know what my first impressions are - good or bad!
Having just read Room by Emma Donoghue (which I can't say I enjoyed all that much), I thought I'd read another of her books, so here's the beginning from The Sealed Letter.
"The last day of August, and the sky is the colour of hot ash. Something rancid wafts on the air from Smithfield Market; the air glitters with stone dust. She's swept down Farringdon Street in the slipstream of bowlers, top hats, baskets on porters' heads. A hand lights on her arm, a small, ungloved hand; the brown silk of her sleeve is caught between plump pink fingertips."
This beginning sounds like the beginning of a book I'm really going to enjoy. It's based on the details of a scandalous divorce that apparently gripped England in 1864. Each sentence just keeps getting better and better. I love historical fiction!