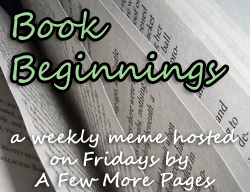 A little bit of fun on a Friday, this weekly meme is hosted by A Few More Pages.
I'll share the first line (or two) of the book I'm currently reading (including the title and author) and let you know what my first impressions are - good or bad!
I may be the last person to be reading Room, by Emma Donoghue, but just in case there are others out there who haven't yet picked up this much talked about book, here is the beginning!
"Today I'm five. I was four last night going to sleep in Wardrobe, but when I wake up in Bed in the dark I'm changed to five, abracadabra."
Room, by Emma Donoghue
I have heard so much about this book so very excited to have it in my hot little hands at the moment. The opening few lines certainly are different, but it's taking me awhile to adjust to this rather unusual "child's-speak".