I have revealed before that my bookshelf (actually, that should be bookshelves plural!) is organized by country - well, for the most part it is. So I decided this Monday, having now been in Canada for four months (yikes! where does the time go?) that I would pay homage to the continent of Europe with all those magical sights, villages, history, cuisine, countries and cultures and list 10 of my favourite books about Europe.
1. The Diving-Bell and the Butterfly, Jean-Dominique Bauby
France:
If you haven't already read this one - it's a must. Come back Friday - it'll be this week's favourite if you want to find out more, but in short, Bauby, the editor-in-chief of French
Elle
suffered a stroke that left him only able to communicate via the blink of an eye. The result - this incredible book!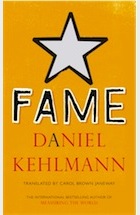 2. Fame, Daniel Kehlmann

Germany

:

When it comes to Germany, my list of favourite books is endless:

The Boy in the Striped Pyjamas, The Book Thief, The Reader...

but for today I decided to include

Fame,

by Daniel Kehlmann. It's rather unusual. Not a selection of short stories as such, but each chapter is completely different in its own right, and could be a story in itself. Yet at the end of the book it all links up in a very clever way! I've never read anything like it, but hope I do again!

3. The Glassblower of Murano, Marina Fiorato

Italy:

Set in Venice, 1681, includes everything Italian - passion, history, food, art... need I say more?!

4. The Island, Victoria Hislop
Greece:
A perfect holiday read about a country I have yet to visit! Four years in the UK and I still didn't manage to get to Greece (unbelievable!)... although we did frequent an incredible Greek restaurant in our local London neighbourhood. But this book was a wonderful escape and certainly whet the appetite for a visit to the Greek islands!
5. The Return, Victoria Hislop

Spain:

Not quite as good as

The Island,

but this was still a page turner, and a very interesting insight into Spain's civil war.

6. Portrait of a Turkish Family, Irfan Orga

Turkey

:

This country is certainly right up there on my list of favourites, as is this book. Check out my

Friday favourite

description... then rush out and buy it for yourself!

7. The Book of Laughter and Forgetting, Milan Kundera
Czech Republic:
Kundera has written so many books about this intriguing country.
The Unbearable Lightness of Being
was my first introduction to him... now I have a healthy collection of books that make up my Czech Republic collection and they're all by Kundera... and for good reason!
8. A Short History of Tractors in Ukrainian, Marina Lewycka
Ukraine:
How much fun was this book? Valentina, the glamorous, voluptuous, gold-digging blonde was a very entertaining character... as were the sagas the sisters found themselves in as they tried to persuade their widowed father to get out of his new marriage. With a tinge of sadness, this is certainly a book worth reading!
9. The Girl With A Pearl Earring, Tracy Chevalier
The Netherlands:
This has been on my bookshelf for AGES and I've only recently read it. Not quite sure what took me so long - it's a fabulous story, so if it's on your TBR pile.... bring it to the top - fast!
10. A Winter Book, Tove Jansson
Sweden:
As tempted as I was to mention
The Millennium Trilogy
here, I thought I'd add something different - and this certainly is! This is a collection of short stories - there's a winter selection and summer selection - and they're each so unique in their own right. A little weird, but also a lot wonderful!
Ten Good Things on a Monday is a weekly meme hosted by Nina and Argh.