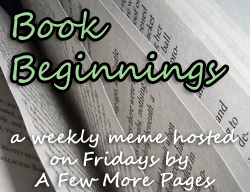 A little bit of fun on a Friday, this weekly meme is hosted by A Few More Pages.
I'll share the first line (or two) of the book I'm currently reading (including the title and author) and let you know what my first impressions are - good or bad!
I don't read many short stories, but over my bowl of cereal lately I've been reading a short story each morning. Short story writing is such a clever skill to have and I've been drawn in by so many of the beginnings to each of them. So, I thought I'd share a couple this Friday.
These come from the short stories of An Elegy for Easterly, by Petina Gappah.
"Mr Vaswani of Vaswani Brothers General Dealers was the first Indian that I saw closely enough to count the teeth in his mouth and the buttons on his shirt."
From Aunt Juliana's Indian
"'You should not play outside in the rain when you are wearing red,' SisiBlandina said to Munay and me. 'Lightning likes things that are red and it will hunt you out and strike you down and burn you from inside out. And you must not sit out on the road otherwise you will grow festering boils on your bottom'"
From The Maid from Lalapanzi
And what's more the stories are just as intriguing as their beginnings!