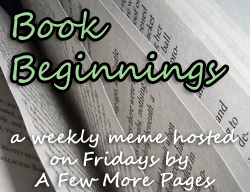 A little bit of fun on a Friday, this weekly meme is hosted by A Few More Pages.
I'll share the first line (or two) of the book I'm currently reading (including the title and author) and let you know what my first impressions are - good or bad!
"After my brother went missing, my parents let me use their car whenever I wanted, even though I only had a learner's permit. They didn't enforce my curfew. I didn't have to ask to be excused from the dinner table."
The Local News, by Miriam Gershow
I can't say I'm totally sold on this beginning. The next par goes on to talk about the dinner table being covered in posters of her missing brother, but it seems to lack punch as an opening. I'll continue on though - and see how I feel about page 50!
It was the cover that caught my eye with this book, and I was just as intrigued by the story - siblings, one
extrovert
, one introvert, and then the table is turned once one of them goes missing, plus I want to know where he's gone!