Book Beginnings...on a Friday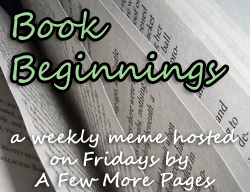 I'll share the first line (or two) of the book I'm currently reading (including the title and author) and let you know what my first impressions are - good or bad!
A flint and stone church stood on a grassy rise in Somerset County, England. Its red door was broken.
Sweet England, by Steve Weiner
I was captivated by this book in the library the other week. An unusual cover, but a lovely title and an intriguing introduction. The first half page goes on to describe what is behind the broken red door. I could tell you, but that would be giving it away!