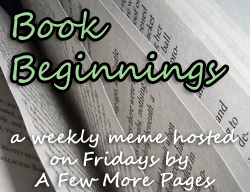 A little bit of fun on a Friday, this weekly meme is hosted by A Few More Pages.
I'll share the first line (or two) of the book I'm currently reading (including the title and author) and let you know what my first impressions are - good or bad!
Mudbound, by Hillary Jordan
Well, this isn't quite the beginning I was expecting. Mudbound, or so I thought, is the story of 30+ year-old Lauren, a girl from the city, who in the 1950s moves out to the Delta with her husband to the farm. It is Lauren's story, but each of the chapters is from a different character's point of view - Lauren, her husband, her maid, her brother-in-law... and it works. The beginning is from her brother-in-law.
I'm loving this book and can't put it down, although we're off on the road today and I can't travel in the car and read. If a genie offered me three wishes that would definitely be one of them! To be able to read in the car without getting that queasy feeling!