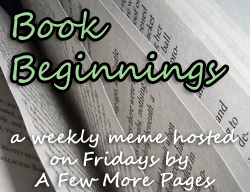 A little bit of fun on a Friday, this weekly meme is hosted by A Few More Pages.
I'll share the first line (or two) of the book I'm currently reading (including the title and author) and let you know what my first impressions are - good or bad!
"I'm happy being single, really I am. There's no space in my life for a man. No room in my cupboards for his socks and jerseys, nowhere for his jars of hair wax or shaving sticks."
p1, The Villa Girls, by Nicky Pellegrino
I haven't yet started this book, but it's on the list of contenders for my next read, and after reading this beginning I am intrigued! I've read a few other books by Nicky Pellegrino and enjoyed each one, so I have a feeling I can't go wrong!