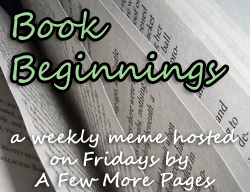 A little bit of fun on a Friday, this weekly meme is hosted by A Few More Pages.
I'll share the first line (or two) of the book I'm currently reading (including the title and author) and let you know what my first impressions are - good or bad!
I don't have too many books on the go at the moment, so all my memes seem to be coming from Letters from Home, by Kristina McMorris and as I'm only halfway through this one, I'm nowhere near the beginning of a new book.
However, my parents have just arrived for a holiday, bringing with them a few books, and this one is currently lying on the table. Dad finished it last night and had tears in his eyes, so I can't wait to read it.
"In a parking area, hidden between a building and the branches of some tall trees, a group of men, women and children were squeezing and pushing in front of an old bus. Loud cries, sobs and shouts, mixed with the metallic sound of guns and mortar fire in the distance reminded me of scene that I had watched in old war movies. It was a May morning in 1992."
Chapter One: The Farewell (Atka), p1, Goodbye Sarajevo, by Atka Reid & Hana Schofield
This is the story of two sisters, separated during the Bosnian war and sounds incredible!