Well I did it! I finally got around to reading
Anne of Green Gables,
the childhood classic by L. M. Montgomery. Not sure how I missed out on this one growing up, but then who says such stories can't be enjoyed later in life (she says at the ripe old age of 30!).
So, in honour of this milestone, I thought I'd share some of my favourite lines delivered by this mischievous, but kind hearted red head! What's more, I can now say I have completed
Lazy Girl's Mini Challenge
(finally!)
1. "Well, my mother was a teacher in the High School, too, but when she married Father she gave up teaching, of course. A husband was enough responsibility."
p47
2.
"You'd find it easier to be bad than good if you had red hair."
p60
3.
"I read in a book once that a rose by any other name would smell as sweet, but I've never been able to believe it. I don't believe a rose
would
be as nice if it was called a thistle or a skunk-cabbage."
p47
4
." Redheaded people can't wear pink, not even in imagination."
p45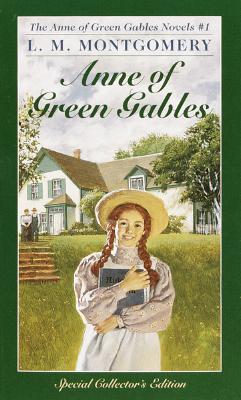 5.
"But am I talking too much? People are always telling me I do. Would you rather I didn't talk? If you say so, I'll stop. I
can
stop when I make up my mind to it, although it's difficult."
p18
6
. "There are so many things to be thought over and decided when you're beginning to grow up. It keeps me busy all the time thinking them over and deciding what is right. It's a serious thing to grow up, isn't it, Marilla?"
p303
7
. "There are so many things in this room and all so splendid that there is no scope for imagination. That is one consolation when you are poor - there are so many more things you an imagine about."
p280
8.
"Some people are naturally good, you know, and others are not. I'm one of the others."
p217
9.
"I am well in body although considerably rumpled up in spirit, thank you, ma'am,"
p101
And my favourite, given the fact that I share the name (although not the hair colour) of this character of characters...
10.
"When you hear a name pronounced can't you always see it in your mind, just as if it was printed out? I can; and A-N-N looks dreadful, but A-N-N-E looks so much more distinguished."
p30
And for the record, I spell my name without an "e" How unromantic!
Ten Good Things on a Monday is a weekly meme hosted by Nina and Argh.