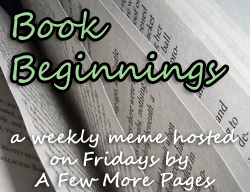 A little bit of fun on a Friday, this weekly meme is hosted by A Few More Pages.
I'll share the first line (or two) of the book I'm currently reading (including the title and author) and let you know what my first impressions are - good or bad!
"A few weeks before the main events of this story disturbed forever the life of its protagonist, Ivan Andreqevich Ozolin, he had believe himself to be in love with an older woman, Tanya Trepova."
The Jester of Astapovo, by Rose Tremain
Well, this beginning was quite a mouthful, not least because I had absolutely no idea how to go about pronouncing Ivan's surnames! But it still captured my attention. After all, I wanted to know what these "main events" were. I've since read the book (it's only a sweet 50 page read) and the story was so enjoyable. Ivan is the station master in the little town of Astapovo, and one day the train that pulls up is carrying a passenger who needs help. It turns out that passenger is Leo Tolstoy!