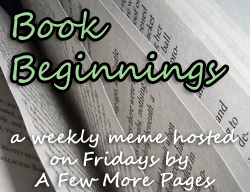 A little bit of fun on a Friday, this weekly meme is hosted by A Few More Pages.
I'll share the first line (or two) of the book I'm currently reading (including the title and author) and let you know what my first impressions are - good or bad!
I've blogged a little bit about my current book this week so I was going to share a beginning from one on my TBR pile, however, when I went back to the first page of The Little Giant of Aberdeen County it suddenly added a whole lot more to the story, even though I'm already two thirds of the way through! So here it is...
"The day I laid Robert Morgan to rest was remarkable for two reasons. First, even though it was August, the sky overhead was as rough and cold as a January lake; and second, it was the day I started to shrink."
p1, Prologue, The Little Giant of Aberdeen County, by Tiffany Baker
I'm really enjoying this read. It's slightly different, a rather slow story, but beautifully written and the author has given us time to really grow with the characters.